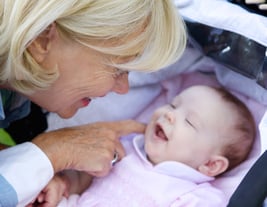 The birth of a grandchild is a very special time, whether you are a first-time grandparent or you already have many grandchildren. You are likely to feel an enormous amount of pride and love, both for your own child and their partner, as well as their new baby. We'd like to share with you our guide to making your memories and feelings into something tangible to share with all generations. As your grandchild ages, they will cherish knowing they were surrounded by love as they are able to review your thoughts and special times you shared together in their early days.
Read on to learn tips and ideas you can use to celebrate the birth and first months of a new grandchild.
Tip #1: Put Together a Keepsake of Memorabilia
Frame special mementos, possessions and tokens of the baby's first few months.
Ask the baby's parents if you can use a few of the baby's "firsts," such as the newborn cap worn in the hospital, the outfit they wore home, a blanket or spoon -- anything that the parents and baby will enjoy having as keepsakes. Instead of storing these items away, put them in an attractive frame for the baby's parents so they are not lost and can be used as a unique piece of artwork for the baby's room.
Tip # 2: Create a Newspaper Announcement
Make your own front page announcement that highlights the baby's birth.
Put a big banner headline announcing the baby and the proud parents' names. Make your newspaper look as real as possible. All the stories on the front page should highlight anything that the baby might like to know when they are older about their first few months such as how the baby's name was chosen, what you were doing when you learned the baby had arrived, how the baby's immediate family are reacting to the news, and how proud you are to be a new grandparent. Sign off as editor-at-large about your thoughts on your family's special event. Use your computer to create the newspaper front page or take the content to a copy shop and ask them to enlarge it and add graphics if you want it to emulate a news edition.
Tip #3: Make a Time Capsule About You
Create a personal journal of things your grandchild will appreciate knowing someday.
This is a project your grandchild will enjoy when they are a little older and is perfect for grandparents who live far away from their grandchildren. Put together a colorful booklet of a variety of things you'd like to share about you that they might not know. One section could be called "My Faovrite Games Growing Up" -- tell your grandchild how you played (what rule and specifics that made these fun games) red rover, hop scotch, marbles, jacks, and jump rope. Another section might be your five favorite books you hope your grandchild reads or five favorite movies you suggest they rent someday -- and explain why. Once your grandchild is old enough, you could exchange "getting to know you" booklets or letters every once in a while where they could suggest favorite books or movies to you. While their taste will probably differ from yours, talking about something you have both experienced is a great way to bond. Check out the photo books offered on shutterfly.com to see a variety of unique designs available to choose from...
Want the rest of the great tips and fun ideas to celebrate a grandchild's birth? Download the free e-book and start making memories today!