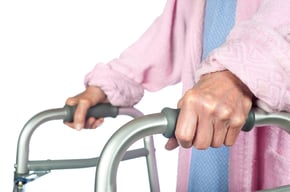 Did you know that May is Older Americans Month? What was once known as Senior Citizens Month is now called Older Americans Month. Older Americans Month is a time to honor older Americans by celebrating their contributions to our communities and provide them with information to stay healthy and active.
This year's theme is "Safe Today. Healthy Tomorrow." Read on for four important safety tips you can put into use today. Whether you are considered an older American or not, staying safe is always important!
Safety Tip #1 – Carry Identification.
Identification is important in any emergency. Should something happen to you while you are out of your home, it is important for people trying to help to be able to quickly and easily figure out who you are. Another helpful ID to have on you is a medical ID if you have any underlying conditions or allergies that emergency responders need to know about.
Safety Tip #2 – ICE.
Along with proper identification, in an emergency, you will want important family members to know what happened as soon as possible. If you carry a cell phone, consider adding the acronym ICE to the person you want notified In Case of Emergency.
Safety Tip #3 – Prevent Falls.
Falling can be especially dangerous for older adults. Bones are not as strong as they once were and if an older person is alone and can't call for help, may have to wait a long time until someone can help them. Follow these "mini tips" to help you stay on your feet.
Watch where you're going – keep an eye out for unexpected stairs, or tripping hazards on the floor or ground that might trip you up.
Know the terrain – take extra care if you live in a colder climate that often deals with icy sidewalks and walkways. Another common place to slip is in the shower – luckily, there are a wide variety of non-slip solutions for the bathroom.
Hold on – Holding on to the railing when you are going up and down stairs can help ensure you stay on your feet. If you have especially poor balance, placing your hand on sturdy objects like a counter or wall as you move about the room can provide extra assistance.
Safety Tip #4 – Create Safe Habits.
Do you ever worry that you forgot some safety measure like locking your door at night or turning off the stove? Training yourself to get in the habit of making sure those things are done can make your environment safer. If you're having trouble remembering, make some sort of visual or auditory reminder. A brightly colored Post It note can help, or set an alarm for the same time each night to alert you to lock the doors.
Taking extra care to live in a safe way today will help ensure your health and well-being in the future. As we age, we may slow down and need to take extra precautions to stay safe and healthy. But taking extra safety measures can help make sure you are healthy for years to come, and enabling you to share your special skills or knowledge with those around you. There are many great examples of how older Americans contributing to their community – whether it is on a large scale involving the entire nation, or whether they are making an impact on a smaller scale like creating special memories with a grandchild. Each person is unique and valuable.
Another way to stay safe and healthy is to monitor your memory with the Free Online Memory Test. The Free Online Memory Test is a self-assessment covering common memory challenges. When taken every month, you can see trends develop so you can notice improvements or catch any concerns early.
Sign up for the Free Online Memory Test today!